Toolset Reference Sites are like dedicated WordPress themes – these are fully working designs created with Toolset plugins and without writing PHP. Pick one, customize it to meet your project's requirements and you are ready to deliver it to your client!
This page explains how you can create a copy of a Toolset reference site on your own WordPress site. It takes a few minutes when you use the
Toolset Framework Installer
plugin.
How to get started?
Video
---
What you will need
A blank WordPress site (see our hint below)
The Toolset Framework Installer plugin (available in the Toolset package)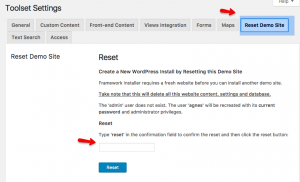 Tip
: Use the Framework Installer's
Reset
feature to easily create a blank site without the need of clearing the database manually. To reset your site:
Go to Toolset -> Settings
Switch to the Reset Demo Site tab
Type in: reset.
Steps to follow
Insatall and activate the Toolset Framework Installer plugin
Go to Toolset -> Reference sites
Pick the site your want to install
You will see a list of required plugins. If your site is missing some go ahead and add install them.
Click Install.
Please remember All the images used in the reference sites are temporary placeholders and should be replaced by your own graphics.
There are reference sites for magazines, companies, classifieds, real estate, e-commerce and more so you don't have to start your project from scratch. Sounds interesting? Why not give them a spin?
jump right into to the reference sites