Download Toolset plugins and follow the online tutorial
For this part of the tutorial, you only need Toolset Types plugin.
To help you get started, we recommend that you also launch our WooCommerce training site (it's separate from your Toolset account). There, you will be able to customize a demo WooCommerce site, which has everything installed and ready for training purposes.
If you prefer to follow this tutorial on your website, install the Toolset Types plugin first.
You can get Types for free from the WordPress repository. Types lets you add custom post types, fields and taxonomy to the WordPress admin. The complete Toolset package lets you also display everything on the front-end, without writing PHP. We offer 30-days refunds for Toolset, so you can try it, risk free.
---
Adding Custom Fields to WooCommerce Products
To add custom fields with the Types plugin, go to Toolset->Post fields.
Add a new group and give it a name, for example "Product details".
This group will be a container for all custom fields added to your WooCommerce products.
Expand the "Where to display this group" section and choose Products.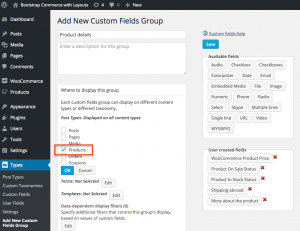 Now you can add custom fields to this group.
To create new custom fields, you use the "Available fields" panel on the right.
Click on the "Single line" button to add your custom field to the group. We want the "Special offer" input to appear as a single line of text.
Give the field its name ("Special offer" in our case) and save the group.
Populating custom fields with data
In your WordPress admin area, go to Products and edit any of the products in your site.
Under the main editor, you should see the new group you created containing the "Special offer" custom field.
You can pupulate your custom field with data now.
---
Adding a Custom Taxonomy to WooCommerce Products
To add a new taxonomy to your WooCommerce products, go to Toolset->Post Taxonomies. Then, click on the "Add new" button. Give your taxonomy its singular and plural names. We will use "Gender" for both (there's no plural for "gender").
In the right sidebar, under "Select Post Types", select "Product" to connect your taxonomy to WooCommerce products.
Expand the "Options" section. The first option allows you to choose whether this taxonomy is to behave like categories or like tags.
Since we want our taxonomy to look and work similarly to categories, we choose "Hierarchical".
Adding taxonomy terms
Again, open a product for editing, or refresh the editor if you already have a product open. You should now see both the new "Special offer" field and the new "Gender" taxonomy.
Before we start using the Gender taxonomy, we need to create the actual genders: Men, Women, and Children. These are called taxonomy terms in WordPress terminology.
Go to Products->Gender and add the following new genders:
Once these genders have been added, you will see them in your product editor.
Setting gender for products
When all your gender terms have been set up, you can assign your products to them. You just saw the "Gender" input in the product editor. When you want to set the gender of several products together, use WordPress's "Bulk Edit" feature to save time.
Go to Products and check the products you are going to bulk-edit.
Select Edit from the dropdown list and press the Apply button.
On the next screen, pick the relevant gender term and save the changes.
We used the Types plugin to add custom fields to WooCommerce products. We also learned how to set up taxonomy terms and edit products by using these custom fields and taxonomies.
Now we have new custom fields in the WordPress admin area, but they aren't showing up on the site's front-end just as yet. The next tutorial in this series will teach you how to create templates for WooCommerce products to display custom fields.
All tutorials in this series